Posted by simplystavish in Articles on Wed, May 9, 2012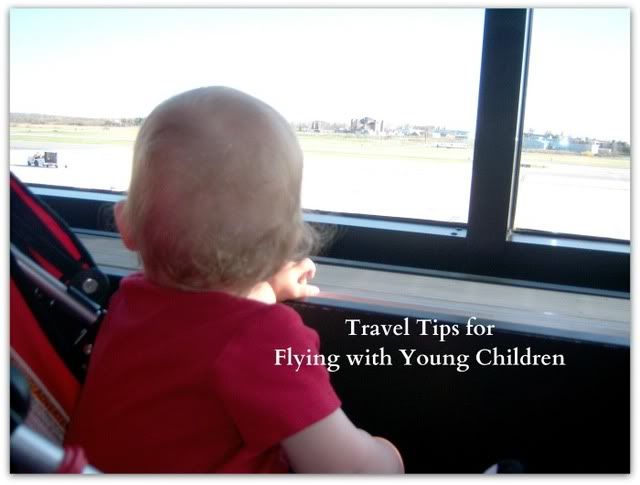 Airline travel is rarely enjoyable for anyone. Long security lines, delayed flights, tiny airline seats, and turbulence are just a few things that stand in your way from you and your vacation destination. Adding children to this equation throws in some extra challenges. As you are preparing for your journey, here are some tips to make getting to your destination less stressful.
1. Use Apps to Keep Updated on Everything Travel
TripIt (Iphone/BlackBerry/Android)- A travel management app that keeps track of flight and hotel reservations and confirmation numbers.
TripCase (IPhone/Blackberry/Windows Mobile)- This app continually updates flight and gate status for your flights.Additionally, it will suggest alternate flights if you happen to miss your booked flight.
Gate Guru (IPhone/Android)- This is a must have app, that provides locations and user reviews of restaurants, stores and services of airports across the country. With this app, you will no longer have to wander around the airport aimlessly hoping to find healthy food options. Search and go!
2. Update Your Knowledge on Current TSA Regulations
TSA regulations seem to change frequently so be sure to check the TSA Traveling with Children website for the latest travel regulations.  Here are just a few of  the TSA regulations that you may not know:
Children under 12 are not required to remove their shoes while going through security.
TSA should not ask you to do anything that will separate parents from their children
Babies must be removed from any infant car seat prior to walking through security. The car seat must be put through the X-ray machine.
You may not carry your baby through the screening check point in a sling or any other keepbabyclose baby carrier. All baby items must go through the X-ray machine. If they do not fit, security officers will be inspect it by hand.
Liquids and gels that are medically necessary (medications, break milk, formula, baby food and juice) are exempt from security rules. They are allowed in reasonable quantities and are not required to be in a zip top bag. You should remove these and declare them for inspection at the checkpoint.
3. Keep your Kids Safe
The only safe place for your young child during turbulence or an
emergency is in a child restraint system (CRS), which is an airline approved car seat.
All car seats that have been identified as safe for aircraft travel are marked with a sticker or tag that states "Certified for use in a motor vehicle or aircraft"
The only way to guarantee your child will have a seat to use the CRS is to purchase a ticket. Did you know many airlines offer a 50% discount on a ticket for children under the age of 2? All children in a CRS must sit in a window seat.
Another safe seat option for children between the ages of 1 to 4 years-of age is the CARES flight harness. The harness requires the child to sit in their own seat and may be used in an isle or window seat. Best of all it is easy to shove into your carry on baggage. Lugging around a car seat, stroller, carry on baggage, and your child (ren) is a lot. I'm a huge believer of "less is more" when it comes to traveling with kids. You may choose to purchase the CARES flight harness or rent one through CARES Harness Rental.
4. Don't Forget These Must Have Items
Pack an extra change of clothes for all family members. Trust me the one time you don't pack an extra clothes will be the one time you will need them.
Bring sturdy gate check bags for car seats (if checking) and strollers to protect your gear. These can be purchased at any store that sells baby gear
Don't forget your child's passport (international) or birth certificate (domestic). Yes even for your baby!
Invest in a toddler harness to let your little one run around in busy airport, without worrying they will run off into the crowd.
Borrow or rent snap on wheels for your car seats to avoid having to lug the big bulky object around. An added bonus is that your child can ride in his car seat through the airport so you can check the stroller with your luggage.
Do I even need to mention a  camera to capture all the amazing memories!
If this is your first time flying with your children remember that everything takes longer with kids in tow. Be sure to leave plenty of time for checking in, getting through security and getting to your gate. Before you know it you will be at your destination and enjoying your time together as a family.
About Mindi Stavish
Mindi is a working mom with two silly boys, Xander (age 3) and Noah (age 1). She spends her work days helping children with their speech, language, voice and swallowing disorders. The real fun for her happens when she is at home with her boys, chasing them around and pretending to be a super hero. She blogs about their silly antics at Simply Stavish where she also writes a weekly feature with lots of information about child language, speech and feeding development. In her less than free time, she feeds her yarn addiction and knits. Her phone is never far from her and you can find her filling her social media addictions on Twitter, Facebook , Instagram at simplystavish, and Pinterest.