Posted by amandar in Blog Posts, giveaways on Wed, Feb 22, 2012
We at Tots2Tweens love being able to connect with parents in this space.
To do so, we rely on the talents and creativity of a variety of people.  Obviously we have a number of behind-the-scenes tech-type genius people that keep our site running.  But, we also utilize the talents of some pretty amazing moms.
They write our expert articles and they contribute weekly content to our blog.
We often get inquiries from people who are new to the blogosphere or interested in becoming  a part of it asking about how they can write for Tots2Tweens, or grow their sites, or work with us to gain exposure for the awesome things they do.
We like doing that for people.
So much so that we're starting a super cool Blog Awesome Challenge!
We've collected some influential and knowledgeable bloggers in our area who are willing to share what they know with all of you!
Doesn't matter if you're really just thinking about starting a blog, or trying to increase the traffic on the blog you have, this program is for you!
It will bring you weekly posts with action items for you to complete.
It will guide you to avoid some of the common pitfalls all of us bloggers have found ourselves trying to clamor out of.
It will help you expand your audience and grow your traffic.
It will be so much dang fun.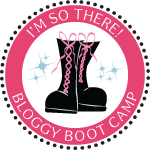 And, for one lucky winner, it will get you an amazing sponsorship to one of the most helpful blogging conferences for newbie bloggers around, Bloggy Boot Camp, Philadelphia!
Yes, peeps, we are doing all of this to help you be a more awesome blogger so that we can send you to Bloggy Boot Camp Philly on May 19th, 2012 to represent us (along with Dumb Mom from parenting BY dummies)!
We will buy you a ticket, give you some spending cash ($300 to be exact so you can get a hotel and maybe eat while you're there!), AND set you up with a post conference, PAID, internship writing for us!*
Awesome, no?!
And all you have to do in the process is make your blog more awesome.
Seriously, this is a win-win situation!
Want to join us and our amazing leaders (more on them to come, but please be advised they are well known local bloggers who have some serious knowledge to impart**)?
Only bloggers and wannabe-bloggers who join the Tots2Tweens Community and comment on this post before the contest is officially under way (March 7th to be precise) will be eligible to win the sponsorship and the internship.***
So, join us why don't ya?!  You'll be on your way to Blog Awesome Super Stardom in no time!
*Official contest rules, eligibility requirements, and info about prizing will be released Wednesday, February 29, 2012.
**Official contest mentors will be announced on 2/29.
***Must join our community on Blog Frog in order to comment on the post.  Please email parentingbydummies at gmail dot com if you have difficulties or questions about how to comment or interact with Blog Frog.
About Amanda Rodriguez
Amanda is your friendly, neighborhood T2T head blogger.  She is in charge of bringing the blog awesome to Tots2Tweens on a daily basis!  She is a married mom to three cool Dudes (ages 3, 6, & 9) and one baby dog daughter.  In addition to making magic here on Tots2Tweens she also writes a pretty fan-freakin-tastic humor parenting blog called parenting BY dummies.   When she's not bringing the pain online or chasing her Dudes up and down a field of some sort she is behind her camera capturing memories for gorgeous people with her Maryland photography business.  She also enjoys reality TV (she was even on a show once!), baked goodness, and watching other people take long walks on the beach.